The TriSight Communications Executive Board for 2017 has been selected and it is with great pleasure that we introduce this new team to you!
Manager Director

Janine Grey is a first-year graduate student working towards her Master's of Strategic Public Relations at the Annenberg School for Communication and Journalism. While she is originally from Riverside, California, she earned her Bachelor's of Fine Arts in Photography and Graphic Design at Shawnee State University in Portsmouth, Ohio. After graduating from undergrad she served in Armenia as a Peace Corps Volunteer where she sat as Co-Chair of the Public Relations Committee and worked as the Public Relations/Marketing Director for the project Border2Border, in which a group of volunteers backpacked across the country to teach under-served youths healthy living habits. Janine has been with TriSight since her first semester at USC, working on the Dream Team Directors account. Beginning in spring 2017, she will work with Operation Surf as the account manager, as well as heading the agency as a whole.
"There's so much great talent in TriSight and I'm so glad to be apart of the work we're doing here," Janine said. "It teaches everyone involved what it's like to work with real-world clients and build connections and skills that are going to last. Being a part of the E-board will allow me to further develop my leadership skills while building upon previous years efforts to grow and make TriSight the best student-run agency it can be.
Deputy Managing Director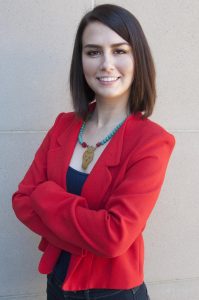 Lisa Curiel Parker is a first-year graduate student pursuing a Master's of Strategic Public Relations and received her Bachelor's of Communication from Annenberg as well. During this past fall semester, she worked with TriSight and closely with a virtual reality start-up called BiPolar ID. While working with them she learned the immense power virtual reality has and the amazing work many start-ups are doing in this realm.
Lisa joined the Executive Board to help rebrand TriSight into an even more amazing organization. This year she will be focusing on transforming TriSight and her ultimate goal is to focus on gaining real-world experience through her three job opportunities next semester.
When Lisa graduates, she wants to work with a company focused on technology and television – her two passions.
Outreach Director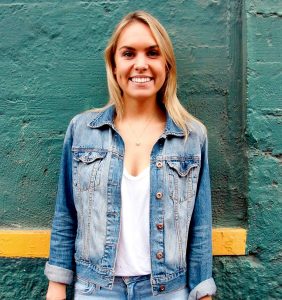 Caroline Galbreath is a sophomore undergraduate student pursuing her Bachelor's of Public Relations at the Annenberg School for Communication and Journalism. She is majoring in Public Relations and double minoring in Marketing and the Music Industry.
During Caroline's first semester with TriSight, she worked on TriSight's newest account, "BiPolar ID," a Virtual Reality production company. After a successful first semester on Southern California's highly competitive student-run PR firm, she recognized TriSight's small client base and wanted to use her sincere passion and self-drive to personally contribute and oversee tremendous growth within the organization. Caroline will focus on establishing a well-known social media presence for TriSight. Her ultimate goal for the time she holds this position is to gain clients from various industries including music, education, energy and many others in order to expose TriSight members to diverse backgrounds that may appeal to members as potential career paths.
"I have learned more about TriSight in the past semester than I have with any other internship I have had. TriSight pushes you and teaches you to be proactive and always get ahead of the plan to produce the best final products for your client. While TriSight's commitment is another thing to balance on your plate, I found that I have gained invaluable real-world experience that I can use in my day-to-day life both inside and outside of the classrooms."
After graduating, Caroline plans to stay Los Angeles to pursue a career in the Music Industry.
Director of Events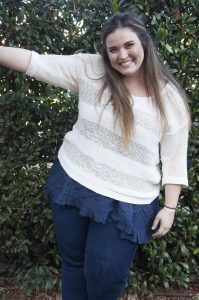 Hinde Kast is a first-year graduate student pursuing a Master's of Strategic Public Relations. She received a Bachelor's of Science in Communication (Public Relations Emphasis) from California State Polytechnic University, Pomona. She graduated from Cal Poly Pomona in 2015 and is expecting to graduate from USC in 2018. She has been apart of TriSight for one semester working on the HATS Account.
"TriSight has taught me how to work with real-life clients, an opportunity that I think can be rare when in school. We make a difference for these companies and it feels great to know that we are helping them reach their goals."
She wanted to become more involved in TriSight and help it grow as an organization in order to see it reach its full potential. She will be focusing on coordinating events related to TriSight and managing the HATS account. Her ultimate goal for the semester is to successfully achieve juggling grad school and her positions with TriSight with grace and success.
After she graduates, she would love to work with a non-profit organization or for the corporate social responsibility department of a corporation. "I want to change the world and make this world a better place and I hope to work with organizations that give back and help others. I want to leave this world better than it was when I came in. I want to do good."