There's absolutely no question that TriSight is composed of some of the best and brightest students at USC. Within each client team, our members continue to impress not just their account managers, but the e-board, the clients, and the entire Annenberg community as well. To show off some of the fantastic members that make up TriSight, we have been asking account managers to nominate one member to be in the running for the title of Member of the Month.  After being selected, the Member of the Month is given the opportunity to have a caffeine-fueled meeting with the faculty member of their choice and will be featured on both TriSight's YouTube account and blog. 
Our first Member of the Month for the Fall 2014 semester is Nathalia Alves Tavares Da Silva. Nathalia, a sophomore who will be graduating in May of 2017, is a Communications major working toward minors in East Asian Languages and Culture, focusing on Chinese, and Video Game Design and Management. While she is originally from Brazil, she has lived in Mexico and China for most of her life. In addition to being a member of the Viterbi team since this summer, Nathalia has been a TriSight member since her freshman year, when she was a member of the SCA team. Aside from being a superstar member of TriSight, she currently works for ASCJ as a part of Stacy Smith's research group. Additionally, she is a part of the Alpha Chi Omega Sorority and has plans to get more involved in both recruitment and alumni connections within the organization. Nathalia's favorite part about going to school in Los Angeles is attending events with amazing speakers and having opportunities for hands-on work, especially in the entertainment field.  The next time you see Nathalia, make sure to tell her congratulations!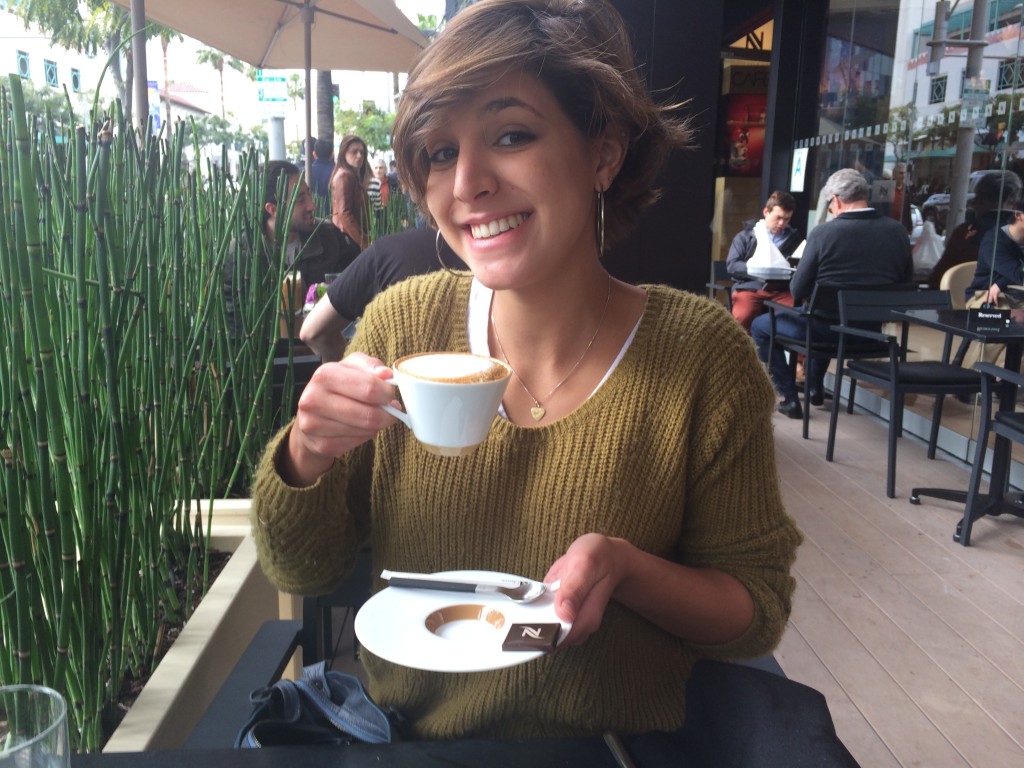 1. What excited you the most about working with the Viterbi team?
What excited me about working with the Viterbi team was how new it is. I thought it would be great to be part of the beginnings of an account that represents a group that is not as well-known on campus.
2. What's the biggest lesson you've learned working with the Viterbi team? And what's been the biggest challenge?
The biggest lesson I have learned is to not be afraid to express my opinions and try something new. When I first joined the account, I was concerned about what people would say about my ideas: I began working for the Viterbi team in the middle of summer, and no one really knew who I was. However, the team was really welcoming, and I felt free to express my thoughts. This way, I feel I have contributed to the account in a way I could have never done had I not been actively sharing my work and opinions.
The most challenging part has been organizing interviews. With two minors and three on-campus organizations, I have a very busy schedule, so making sure I reached out to every interviewee was a challenge that, fortunately, I overcame!
*

3. Is this your first experience working in PR?
This is my first experience working in PR, and it has been great so far!
4. What's your favorite part about being an Annenberg student?
My favorite part about being an Annenberg student is having classes with amazing professors who pursue their passions and truly care about their students.
5. What is your dream job or company to work for in the future?
I am still trying to figure it all out, but as of now I would love to be a video game producer, and work on a project specifically creating third-culture kid awareness. We are a population that has not stopped growing, and it is important to share our experiences with the world.
6.  As a PR student, it's almost a given that coffee will be involved.  If you could have coffee with anyone (living or dead), who would it be and why?
If I could have coffee with anyone in the world, it would be Richard Feynman. Yes, he is dead, but he was not only an incredible figure in the scientific field, but he was also a bongo player and an artist, and he had different quirks that made him an interesting and funny character! It would have been interesting to pick his brain!
*Special thanks to Fred Lee of the Digital Team for creating Nathalia's Member of the Month video!