Bridget Winstead, Account Manager
---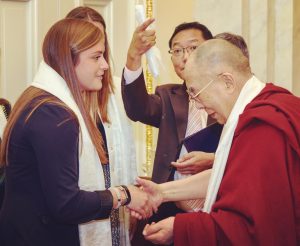 It's April in D.C. The weather is unexpectedly mild. A big guest is on his way to the Capitol today, and everyone is in a tizzy. The Dalai Lama is scheduled to arrive precisely at noon for a meeting with the nineteen senators on the Foreign Relations Committee. The Dalai Lama plans to discuss both his exile from China and efforts in Tibet. A mob of international correspondents begins to congregate outside of the Foreign Relations Committee room on the first floor of the Capitol – eagerly awaiting His Holiness. Then there is me. I am a protocol assistant for the Committee who happened to help with the logistics of the Dalai Lama's visit. I soon realize the significance of my exposure. I am right at the intersection of political discourse and public relations. This is the moment when I first realized that public relations really is a core pillar in the political sphere. The Dalai Lama was meeting with these senators to convince them to support his efforts and ideas, take action on those efforts and ideas, and – finally – to make changes that would benefit him and his people. The lines are blurred between political discourse and public relations – and I saw that fusion firsthand.
Awareness, education and persuasion are three important aspects of successful politics that are public relations centric. Whether it's running for office or lobbying for a bill or policy, awareness is absolutely vital for conviction. Who will vote for you if they don't know who you are and what you stand for? Which lawmakers will vote on behalf of a bill if they do not know how it will impact their constituency or core platform? The public relations aspect of awareness brings political entities and policies to light.
Education is the next necessary public relations tenant in politics. Awareness is the starting point, but education is where the real work gets done. The vernacular has to be digestible to the appropriate audiences and clearly understood. Politics can be messy, so putting confusing concepts into easy-to-understand terms makes things easier for everyone. Empathy through education could also possibly lead to more support of the candidate or effort you are fighting for.
Lastly, persuasion. The audience has been made of aware of your political efforts and has been educated on your candidate or cause, but now they need to be convinced that what matters to you also matters to them. Delivery and authenticity are vital components of persuasion. Most politicians do not have training in those fields; this is where public relations comes in. For candidates, public-speaking skills must be sharpened with tempo training, body language adjustments, and presentation practice. For policy, priorities need to be clearly articulated to the audience, and efficiency is vital. Why should this policy matter to them? Why should they vote for this candidate over another? If you are successful in persuasion, you (or your client) will ultimately accomplish your goals.
Although not always recognized, the practice of public relations is used for successful political campaigns. My transition from Washington, D.C. to Los Angeles has showed me that public relations is transferable to a myriad of professions – especially politics. Now – more than ever – the reputation of Washington has been tainted. Politicians need more help now than ever from public relations professionals to clean up their acts and hold themselves accountable. So, future public relations professionals… if politics makes you tick (like it does for me)… in the words of Uncle Sam, "We want you!"